After reading the texts of Gardner Campbell and Jim Groom, I learned that technology is bringing a big change in our society, especially in our teaching and learning style. The following picture shows my understanding of the text by Campbell.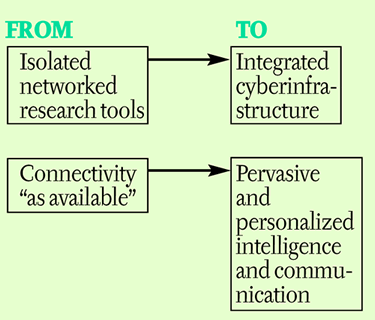 According to my understanding, a personal cyberinfrastcuture  is a computer system used by individuals having their ownership in that system.
I agree with both writers of the text that we are living in the century, in which, we believe in doing rather than watching and believing in what others say. According to the texts, the technology is great way to have your personal space online.    Both Groom and Campbell believe in independent learning, which I also agree with. In our class, I believe that we all learned everything independently. We did get the ideas from Prof. Smith, but we learned to use technology by figuring out everything. I believe that our class is an example of Groom and Campbell's ideas. Jim Groom states:
we are in a situation where many of our students and faculty are using tools like blogs and wikis to trace the work they are doing, both as part of a course as well as independent thinkers.
Groom says that the only question that comes up is how to save identity and have your own space by stating:
The key here is the crafting of an identity with a purpose, the conscious consideration and creation of one's professional/academic identity online: a domain of one's own!
It is important to have one's own digital space since it is important to protect identity. Having you own digital space means that you can teach and learn in your own comfort, feeling as its your classroom.
When thinking of education 230, I heard that it is all about making presentations and creating lessons in digital ways and it seems a lot of work. When I entered this classroom, I found out that it is going to be a fun learning. As approaching the end to this course, I believe I have learned something different from what students used to tell me who took this course earlier. I did not find this course to be a lot of work. I learned many new techniques that are going to help me in future as being an educator. I love this idea of open learning, which not only makes life easy, but also creates educators who will make their future students' life easier. The most important thing in this course was creating our own work and then making our own personal digital space. I do not think their was anything least important, since I had to learn everything from the basic steps. All the assignments were important in learning what I have learned by now.